Franchise Opportunities > Just A Buck Franchise Info



Just A Buck Franchise Information

Just A Buck Franchise Start-Up Costs


Overview
The Just-A-Buck family of company-owned and franchise stores has grown steadily stronger since our beginnings in 1988. Today there are stores throughout the United States and the number continues to grow. What's the secret to our success? Simple. We make money the old-fashioned way…just-a-buck at a time…and it can soon add up to quite a tidy bundle.

Just-A-Buck offers franchisees a proven successful method of operations. We take care of many of the details so you can concentrate on running your store and building your business. Our franchise package is like a road map. It shows you the steps that can start you on the road to success right away.
Products & Services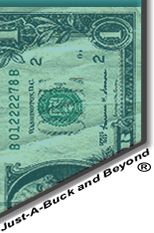 The late 1980's and early 1990's were the green years for America's dollar stores. It was during these fertile years that Steven Bakst, a seasoned buyer who has over 20 years experience purchasing closeout and over-stocked merchandise, opened the first Just-A-Buck store, in Poughkeepsie, New York, with his sister, Rochelle. The crowds in the aisles of the flagship Just-A-Buck store reinforced the Baksts' faith in the dollar store concept.

So successful was the first store that the company soon opened more. With each new store, Just-A-Buck refined the concept until they perfected a tried-and-true formula. Finding competent managers to maintain the locations in the prescribed manner wasn't easy. Unlike some dollar stores often marred by hodgepodge displays and disheveled merchandise, Just-A-Buck stores were meticulously neat and clean. Customer service was never one of the items permitted to be discounted.

The Baksts had an idea that owners/operators would have the spirit to make their stores succeed. They took a third partner, Robert Capone, and in 1992 sold their first franchise. Today, Just-A-Buck stores are flourishing. Many are in the very same locations where other dollar stores failed. And they're run by franchisees who have discovered the American dream really can come true. All it takes is lots of drive and Just-A-Buck.
Training & Support
Pre-Opening 
Site selection and lease negotiation assistance.
Store design and layout assistance.
Fixture and material specifications.
Signage
Inventory and display planning.
Merchandising
Training
Classroom and on-the-job training.
On-site management and staff instructions prior to opening.
Records management.
Ongoing communications.
Special programs.
Marketing Expertise
Grand opening and seasonal advertising programs.
Customer awareness marketing programs.
Volume building programs.
Start-Up and Ongoing Support
Opening assistance.
Consultation in establishing operating budgets.
Sales forecasts and merchandise planning.
Financial management systems.
Comprehensive operations manuals
Periodic visits.
Why Just-A-Buck?
As a Just-A-Buck franchisee, you'll be presented with a complete package designed to enable you to start making money right away. With experienced Just-A-Buck staff members behind you, you'll be free from many time-consuming details…and have more time to focus on running your store.

And there are other ways for you to profit from our franchise relationship. For example, we know how to go after the right demographics in proven retail markets. Whether it's and inner-city site, a suburban location, a strip center, or a major regional mall, Just-A-Buck can help you find prime locations in established high traffic retail corridors - -and we have our own construction coordinators ready to assist you if you need our help.

When you're a franchisee, we have a vested interest in your success…and you're more likely to succeed thanks to our established name, reputation, merchandise, and method.
Are You a Good Fit for Just-A-Buck?
Costs will vary according to location. Minimum initial liquid capital required is $50,000.

The term of the franchise agreement is for 10 years, with the option of two additional 10-year renewals at no additional cost.

Many of our franchisees researched business opportunities before they decided to become franchisees. They will happily tell you they wouldn't be as successful today if it hadn't been for the expertise and advice they received from the Just-A-Buck staff of experienced professionals.