The RYTECH concept is water damage mitigation, residential/commercial structural drying and mold remediation. Our employees focus on perfecting one task. We are certified water damage specialists. Itís not Dry until itís RYTECH Dry.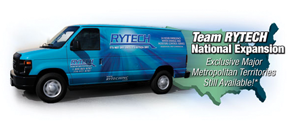 RYTECH has found its place in the Insurance Claims Industry by offering a very specialized service known as Water Damage Restoration. Through technological advances in recent years in Restorative Drying, major insurance companies have come to realize that our services save claim dollars.
Find Out Why
RYTECHíS Proven Water Damage Restoration System Saves Insurance Claims Dollars!
RYTECHíS Reputation with Insurance Claims Departments is the Best in the Industry.
RYTECHíS Step by Step Marketing Plan Gets Results.
RYTECHíS Professional Image is Unsurpassed.
The RYTECH Advantage
Large Exclusive Territory
National Marketing Team
National and Regional Accounts
Comprehensive Ongoing Training
Industry Leading Technology
Committed to Franchisee Success
Multi-Billion Dollar Industry
Receive FREE information
SUBMIT the Request Information Form below.